The Tampa Roof Cleaning team provides professional roof cleaning – pressure washing exterior cleaning services in Tampa and all the surrounding areas of West Central Florida.
Call TODAY!  813-347-9120 for a no obligation hassle-free price quote for residential, commercial and industrial projects.

5 Good Reasons to Clean your Roof!
Aesthetics - keep your home beautiful and enjoy pride of ownership…
Roof Longevity - maximize the life & save money not replacing your roof…
Value - protect your investment and make more money…
Health – mold causes allergies, a clean roof promotes a healthy home…
So, what's that eating your roof?
The dark roof stains that makes your home look worn and weathered are caused by algae and fungus actively growing.  Over time algae and fungus eat away the organic components of your shingles or tiles, taking years from the life of your roof while also making it ugly in the process.  It can also impact your energy cost because of moisture retention, reflectivity loss resulting in heat accumulation.  When it rains, algae spores will wash down from the roof eventually spreading stains to your gutters, brick, and painted areas too.
Is the roof cleaning process safe?
We understand that the use of high pressure and strong chemicals can damage  your roof.   Our proven low pressure roof cleaning process removes the algae and fungus from your roof without the application of strong chemicals or high pressure washing.  Our roof cleaning products are designed to thoroughly clean and maintain a stain free roof for many years to come.
What will it cost?
Roof Cleaning  jobs are typically quoted by the square foot.  However, the size of the job, roof pitch, landscaping and overall severity of the stains are also factors that can influence the overall cost.
Call TODAY! 813-347-9120 for a no obligation hassle-free price quote.
Metro Cities – West Central Florida areas that we service include:
Tampa
Clearwater
St. Petersburg
Brandon
Sarasota
Counties: Hillsborough – Pinellas – Citrus – Hernando – Pasco – Manatee
Florida Statewide: expanded service area for large commercial exterior cleaning jobs.
Here's a few of the fine companies who trust and happily use our exterior cleaning services.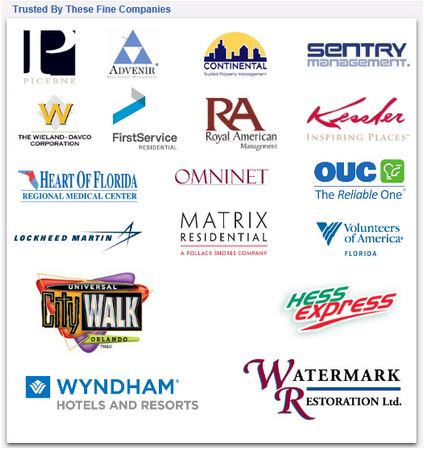 Orlando pressure washing – home exterior cleaning  > Orlando Roof Cleaning
Palm Beach Tile Roof Cleaning – exterior pressure washing services Palm Beach County – South Florida.  Roof Cleaners Palm Beach | Daytona Beach Roof Cleaner